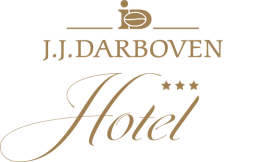 Welcome to the J.J. Darboven Hotel, where we greet our guests with delicious coffee, a lavish breakfast and a view of our paddock with beautiful horses prancing around. Whether you are just passing by or want to make a stop and enjoy Rumia, your stay is sure to be a pleasant and relaxing experience.
Choose from 10 comfortable rooms, enjoy great coffee on demand from our electronic barista (24 h) in our breakfast hall and relax in the dry sauna. You can leave your car right in front of the hotel.
Breakfast
A generous breakfast buffet awaits you every morning between 6:30 and 10:30. The menu includes only fresh products from local providers, such as delicious honey from our own bee colony and fragrant coffee from a pressure coffee maker.
Sauna
After a day full of unforgettable experiences, relax in our dry sauna to cleanse your body and improve blood circulation. The benefits of sauna include muscle relaxation, a boosted immune system, more elastic skin and the release of endorphins. After your session, you can take a cold shower without leaving the sauna area.
J.J. Darboven Riding Academy
The J.J. Darboven Riding Academy operates next to the hotel. Some of our rooms offer a view of the paddock, enabling you to enjoy a show of our guests' riding skills and the sight of horses resting. The Riding Academy consists of safely fenced paddocks, an indoor breaking ground, a large manège, a lunging ring and a club building where you can rest while enjoying a cup of great coffee. The Academy is the perfect place for both amateurs and more experienced riders, regardless of age. Learn more at www.kawaikonie.pl
J.J. Darboven Coffee and Tea Academy
During our more than 150 years of existence, we have accumulated a wealth of knowledge on hot beverages. 2002 saw us capitalise on this expertise and establish Poland's first J.J Darboven Coffee and Tea Academy, which operates to this day. In our seminars, we teach the secrets to professional coffee and tea-making to hundreds of future baristas, with almost 5,000 "graduates" under our belt. We also help hone the skills of industry professionals in the form of such workshops as latte art. All our courses are taught by Dariusz Wasielewski, a certified trainer and barista. Learn more at akademia.darboven.pl
J.J. Darboven shop
Visit our brick and mortar shop located in the J.J. Darboven headquarters, only 200 m away from the hotel. As a guest, you can enjoy a special discount on all coffees, teas and chocolates. We also have an online shop. If you would like to learn more, visit darbovensklep.pl
J.J. Darboven Coffee Roasting Plant
The local J.J. Darboven Coffee Roasting Plant, located in the same building as the shop – the J.J. Darboven headquarters, is our latest initiative launched to meet the needs of those coffee enthusiasts who are looking for unique coffees freshly-roasted in small quantities..
What begins in 2020 rests atop solid foundations. Five generations of the Darboven family have roasted coffee in Germany for more than 150 years, bringing its great flavour to people all around the world. For the members of the Darboven family who have managed the company for all those years, coffee has always been their life's passion, not only a product. The same passion is there in our roasting plant, born out of love for coffee. If you are interested, visit palarnia.darboven.pl